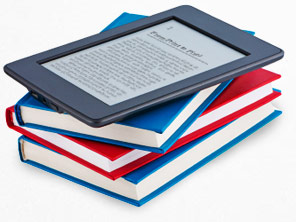 Get the most bang for your book.
With up-front pricing, a 3–5 day turnaround, and and distribution to the biggest online bookstores like Amazon, B&N, and Apple's iBooks, your book is in the right hands with Primedia eLaunch.
---
Up-front Pricing
E-book conversion is just $1.25 per page for your first 300 pages and just $0.40 per page after that. Your first 50 footnotes are free and $0.40/ea. after that. Illustrations and graphs are always free. What are you waiting for? — Get a free quote now 
Special Order?
If you'd like to order from our à la carte services, just shoot us an email and let us know which services you'd like. We'll email you back with your order total and a link to pay.
---
Why choose Primedia?
Here are the top 6 reasons.


1.

Fast Turnaround

Writing takes time. E-book conversion shouldn't. At Primedia, you'll get your book files in just 3–5 business days. Guaranteed.



2.

Up-front Pricing

Leave the guesswork behind. The price we quote is the price you pay. If you want hidden fees, you'll have to ask the other guys.



3.

Big-Box Publishing

Don't just convert—publish! We can submit your book to the biggest e-bookstores like Amazon, B&N, Kobo, iBooks, and Google Play.



4.

Dedicated Book Page

Every book we convert gets its own personal home on our website. It's like free publicity!



5.

All Major File Formats

Keep up with the curve. You'll receive 100% market coverage with sale-ready .mobi and .epub files.



6.

Keep What's Yours

It's your book. Keep it. With Primedia, you keep 100% of the publishing rights and all digital files forever.
---
À la carte Services.
Get what you need at the price you want.
Conversion
E-Book Conversion

$1.25/page | Order online

Your first 300 pages are $1.25/ea. and just 40¢/ea. after that. The first 50 footnotes are free and just 40¢/ea. after that. Fixed layouts are $5/page. Start with a free quote.

E-Book Cover Design

$99–$299 | Order by email

It's true, readers always judge a book by its cover. So get your book ready for the limelight with a professional book cover design from Primedia. We offer two levels:

1. Template. On a budget? Choose from one of 18 cover templates for just $99 each.

2. Custom. Go pro and get a custom design for $299. That includes 6 hours of design time with additional design time charged at $50/hr.

Print Layout

$50/hour | Order by email

Need your print book formatted too? No problem. Besides doing print-to-digital, we also format traditional print books. Just give us a call or email to discuss your project.
Distribution
Basic E-Book Distribution

7% commission | Order by email

Getting your ebook up for sale shouldn't be difficult. Distribute with Primedia and your book will be available to 99% of the market within a week. We take a 7% commission per book. Payouts are quarterly and we send you monthly sales reports.

Global E-Book Distribution

7% commission + $100/year | Order by email

In addition to basic distribution, get complete market coverage with access to over 50 niche and independent ebookstores worldwide. The cost is 7% per sale + $100/year. Payouts are quarterly and we send you monthly sales reports.

ISBN Service

$20 | Order online

With an ISBN publishing package from Primedia, your book will be personally registered through the official ISBN database, giving your book higher visibility in the world of publishing.
Marketing & SEO
Basic SEO Marketing Blast

$99 | Order by email

With our Basic SEO Marketing Blast you get a personalized press release written specifically for your e-book launch as well as Twitter and Blog promotion through Primedia eLaunch.

Premium SEO Marketing Blast

$299 | Order by email

Take the next step and get a personalized premium press release with distribution to major internet news outlets, SEO backlinks, directory submission, blog wheel and receive a full report detailing market exposure.

Facebook Page

$299 | Order by email



Get your book on the world's most popular social network. With a unique cover image, landing page tab designs, and buy links, you'll be ready to harness the power of social media.

KDP Select Promotion

$150 | Order by email

Kickstart your e-book sales with Kindle Direct Publishing's Select Program. Get a personalized press release, KDP promotion setup, and Facebook, Twitter, and blog exposure via Primedia eLaunch.

Author Account Setup

$99 per store | Order by email

Skip the hassle and have Primedia setup your personal publishing account on your behalf through Amazon, B&N, iBooks, Kobo and Google Play.